We have a tiny house. And a tiny shed. And no basement or garage. I love to decorate for each season, but limited storage space calls for some serious creativity! In the name of sanity vs. clutter, I made a rule for myself: one storage box for fall and one for spring/summer. (Check out my Christmas storage tips, too!)
Here's how I do it:
My holiday decorations consist of 2 basic elements: fabric & vases.
Fabric takes up such a small amount of storage space, and it makes such a huge impact! I can switch out pillow covers, rugs, dish towels, and a table cloth in about 5 minutes and have a new room!
From there, I just use vases that I already have & fill them with fresh flowers in the Spring and  wheat in the Fall.
That's it! Everything else is just creatively repurposing other decorations already in the house. Seriously, it is super easy and really cute. A little tip: organizing objects in groups of 3 can make them look very on purpose & stylish. Oh, and if I'm feeling REALLY fancy, I sometimes use a cake stand to set them up.
For my Fall/ Thanksgiving decorations, I focus on the two areas of our home that make the most impact: our porch & entryway.
I use a little dresser facing the front door as our entryway station and "mantle."
The clock was a vintage hand-me-down that I painted white. The pumpkin is a faux version from Wal-mart. The owl pitcher, cake stand, and wheat are all TJ Maxx bargains, and my talented hubby did the bird painting. The clock, painting, pitcher, and cake stand are on display in our house year round, and the pumpkin & wheat are easily stored in my Autumn box.
This little display sits on my porch. The owl (another TJ Maxx bargain) and tablecloth are stored in my Autumn box. The paint-dipped candle jars were a super easy DIY (click here for a tutorial from Nest of Posies), and the display block? Just staple some fabric to a piece of styrofoam and BOOM, instant decor stand! If you want to go for the gold, you could also pop a cute little welcome mat in front of your door & switch out the cushion covers on any outdoor chairs for another easy Autumn update that won't fill up your storage space.
If you don't have any art around your home that can be moved and repurposed as Autumn or Thanksgiving decor, have no fear! I created free printables for you. Just pop them in a frame & you've got yourself a cute little display  that doesn't take up any extra storage space after the holidays. This is one of my favorite quotes, and I thought it was a great fit for Thanksgiving
Click here to download both free Thanksgiving Printables
Here's the checklist:
Repurpose art, mirrors, vases, and other decor items in your house to create a new display
Fabrics are great small-space decorating tools because they offer a big impact for minimal storage footprint (tablecloths, cushion covers, kitchen towels, covering display stands)
Frame printable art for a pop of seasonal color that can be recycled after the holidays
Thanks guys! How have you simplified and organized your holiday storage?
Link up!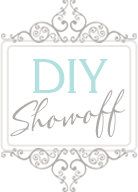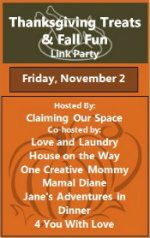 Mums Make Lists