Hello, my loves! I have a really yummy, ridiculously easy Valentine's Day idea for you, complete with presents: free themed-out printable labels, bacon recipes, and a pretty sweet Valentine's Day card!
Bippity Boppity BACON!!!! My hubby is addicted to anything that even remotely resembles bacon. I once caught him licking a piggy bank. (Ok, not really, but it's only a matter of time…)
When I saw this adorable bacon salt recipe from Formal Fringe, I was completely inspired! I decided to expand on her idea & create an entire bacon-themed gift set, because you know what's better than bacon? MORE BACON.
I scoured the internet & found some delicious recipes for bacon salt, bacon jam and candied bacon. There was only one issue: I'm lazy they all required a lot of work!  I decided to create my own super-simple time-saving versions, and they turned out pretty well!
Want to know my secret shortcut ingredients? OF COURSE YOU DO.
Grab a few bags of REAL bacon bits (brand isn't important — just make sure you're not buying fake bacon bits) & you can save a TON of cook time! I also love using this pork rub seasoning in place of the 5 million spices required for certain bacon recipes. It is ridiculously delicious & SO simple!
Recipe Time!
How to Make Bacon Salt
Ok, this one is probably the easiest recipe ever. Brace yourself.
Mix 1 bag of bacon bits & 1/2 cup sea salt in a blender.
Presto! Bacon salt
Bacon Jam Recipe
There are tons & tons of bacon jam recipes on the internet. I based mine on this Martha Stewart recipe  & then simplified the bejeezus out of it.
1 cup freshly brewed coffee
1/2 cup maple syrup
1-2 bags real bacon pieces
1/4 cup apple cider vinegar
2-3 tablespoons pork rub seasoning
2 tablespoons garlic (the kind you buy already crushed in a jar, of course!)
Add other spices to taste if desired (you can sprinkle in some onion powder, red pepper flakes, black pepper, garlic powder — whatever you want!)
Bring to a boil in a small pot or sauce pan, then let it simmer down (Simma down now!) for another 30 min. or so. You can put it in the blender if you want, but we just left it chunky (one less dish to wash) & it's great!
Bacon Candy
(Original recipe via Food Network)
Heat up that oven to 325.
Slap some aluminum foil down on a baking tray & spray it with a bit of Pam.
Spread out some bacon bits, spray them with Pam, and sprinkle on some coconut sugar (you can also use brown sugar, I just didn't have any on hand!)
Sprinkle on a little pork rub, salt, or pepper if it sounds yummy.
Bake for 15 minutes.
All done!
Now you can pop your treats into some jars (I just cleaned out a few old salsa jars, but any kind of container will work!)
In the words of Jim Gaffigan, "It's like a bacon-to-bacon time-space continuum." Om nom nom!
Printable Valentine's Day Card & Gift Labels
Download the printable Bacon Gift Labels and let's get this party started! (P.S. I made the label for the candied bacon smaller because the recipe yields a pretty small batch  – you don't need much!).
I covered my lids with washi tape (you know I love me some Washi!), then printed out these labels on full-page sticker sheets. If you don't have any adhesive printer paper, you can also use card stock or even regular printer paper & just stick it on with some double-sided tape.
I have one more treat for you! A Valentine's Day card: "Don't Go Bacon My Heart" (it's a play on the classic duet with Elton John & Kiki Dee)
Here's the printable version: Bacon My Heart Valentine
Haha, it just makes me smile! I've been singing, "Don't Go Bacon My Heart" in my head all day.
Enjoy your new bacon recipes & Valentine's Day cards! While you're cooking, try to save a bite to share with the special bacon lover in your life!
Pretty Organized Tip: You can save yourself some stress by making a big batch to save as gifts for upcoming birthdays, Father's Day, etc.  Just keep everything refrigerated & when those important dates roll around, you'll look like the planning-est person in town!
What are your favorite holiday treats?
P.S. I'm linking up my project on these fabulous blogs: Sew-Licious, Craft-O-Maniac, Ginger Snap Crafts, Someday Crafts, Free Pretty Things, Matt and Whitney Kelly, Skip to my Lou, SNAP!, Lady Behind the Curtain , Not Just a Housewife, The 36th Avenue, The Best Blog Recipes, & Mums Make Lists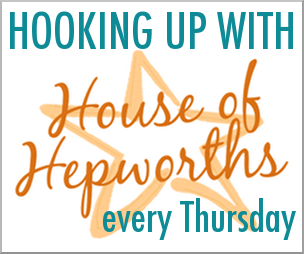 UPDATE: Many thanks to Brit.co,  Handmade & Craft, and  Cupcake Diaries for featuring this project on their lovely blogs!!